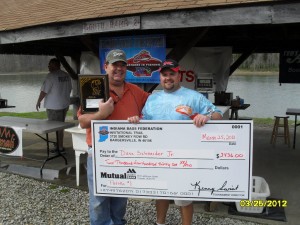 The 2012 Federation trail started off with a great event on Sunday March 25.
58 of the best Anglers and Co-Anglers in Indiana began their Trail fishing season at 7:40 AM. The sky was partly cloudy but the rain held off. The temperatures were little cooler than the record heat recorded earlier in the week. The warm weather had the bass up and moving as some appeared to be beginning to spawn.
On the Angler side there were 87 fish weighed in for a total of 299 lbs.
Dave Schneider Jr. of Indianapolis won the event with a 5 fish limit that tipped the scales at 18.92 lbs. Dave earned $ 2,436.00 for his days work.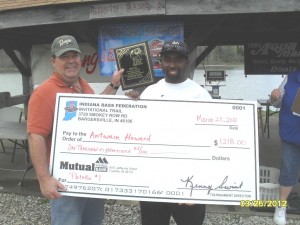 Second place finisher Steve Quiggins of Fortville Indiana also had a 5 fish limit weighing 16.88 lbs.  Steve collected $1,522.00
Zach Grounds of Middletown was third with 4 nice bass totaling 16.58 lbs. He walked away with $914.00
Dave Schneider Sr. of Indianapolis was one good fish short of his son with 4 weighing 14.08 lbs. worth $609.00 and 4th place.
Mike Quinlin of Mooresville completed his five fish limit with 13.94 lbs. His check was for $365.00 and 5th place.
Calvin Davidson of Plainfield rounded out the 6 paying spots on the Angler side with 4 bass weighing 12.92 lbs.  good for $244.00
Michael Ruhana missed out on a check by only 2 one hundredths of a pound as his 4 fish weighed 12.90 lbs.  Michael received a nice American Rodsmith's rod from A2O Boating Supplies and Pro Shop for his efforts.
Sheldon Roberts was presented the Big Bass check by his friend Clem Schmidt.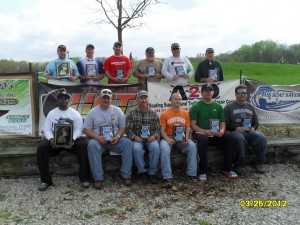 Sheldon's  6.54 lb beauty earned him a cool $570.00
On the Co-Angler side it was Antwain Howard of Indianapolis leading the way.
Antwain's 4 bass weighed 12.82 lbs earning him $1,218.00 This was Antwain's first Federation event as he is new to the Indiana.
Dave Rector of Brazil weighed in 4 bass totaling 12.60 lbs good for second place and $761.00
Third place went to B.J. Butcher of Greentown his 11.20 lbs. was worth $457.00
Greg Smith of Ellettsville had 3 bass weighing in at 7.58 lbs.  he was awarded a check for $304.00 for his fourth place effort.
Keith Whatley placed fifth with 2 bass weighing 7.44lbs. earning $183.00
Drew Russell of Louisville Kentucky brought in 1 nice bass weighing 6.12 lbs. That one fish was good for sixth place paying $122.00 and $290.00 in Big Bass money.
David Dede of Loveland Ohio just missed out on a check but won a nice rod from A2O Boating Supplies for the "first out of the money" award.
All of the anglers that weighed in fish will receive points toward earning a spot in the Forrest L. Wood Classic at the end of the year. That event will be held at Geist Reservoir October 6th and 7th.  Thousands of dollars in cash and prizes will be awarded to the top Classic participants.
The results of the Angler and Co-Anglers divisions are listed below.
I along with my tournament crew want to thank everyone for their support as this was our first large tournament to conduct. It went smoothly and there were only a few issues. We could not pull this off without the support of a lot of friends, family and fellow anglers. We hope to see everyone at the Brookville tournament on May 13, 2012.
REMEMBER to Support the businesses who support us. Without them we would not be able to pay out 70 % at the ramp.
Thank You,
Kenny Swint
IBF Invitation Trail Director 2012
FULL RESULTS
IBF OPEN INVITATIONAL

March 25, 2012

Patoka

Angler Results

Place
ANGLER
# OF FISH
TOTAL WEIGHT
POINTS
WINNINGS
1
Dave Schneider Jr.
5
18.92
100
$2,436.00
2
Steve Quiggins
5
16.88
99
$1,522.00
3
Zach Grounds
4
16.58
98
$914.00
4
Dave Schneider Sr.
4
14.08
97
$609.00
5
Mike Quinlin
5
13.94
96
$365.00
6
Calvin Davidson
4
12.92
95
$244.00
7
Michael Ruhana
4
12.9
94
8
Stu Moyer
3
12.12
93
9
Scott Dieterman
4
10.52
92
10
Matt McCoy
3
10.48
91
11
Doug Ruster
4
10.46
90
12
Clement Schmidt
2
10.38
89
13
Terry McWilliams
2
9.54
88
14
Rob Kelley
3
9.16
87
15
David Willsey
3
8.7
86
16
Chris Burk
2
7.7
85
17
Brad Moser
2
7.66
84
18
Norman Vandeventer
2
7.5
83
19
Sheldon Roberts
1
6.54
82
$570 BB
20
Chris Wilkinson
2
6.3
81
21
John Melton
2
5.86
80
22
Greg Jones
1
5.46
79
23
Jeff Taylor
1
5.34
78
24
Mitchell Rhoton
2
5.02
77
25
Curt Cox
1
4.58
76
26
Paul Jolly
1
4.36
75
27
Rich Fye
1
4.22
74
28
David Goodman
1
4.18
73
29
Curtis McCreery
1
3.72
72
30
Chad Moore
1
3.58
71
31
Lincoln Bowen
1
3.34
70
32
Garry Clark
1
3.24
69
33
Danny Abrams
1
3.22
68
34
Jason Howrey
1
2.88
67
35
Rick Humphrey
1
2.74
66
36
Drew Crawford
1
2.72
65
37
Dave Coffing
1
2.66
64
38
Ron Eicher
1
2.54
63
39
Tom Schrader
1
2.46
62
40
Marvin Parton
1
2.18
61
41
Troy Keen
1
1.74
60
42
Steve Coffey
0
43
Lee Eakle
0
44
Doug Hunt
0
45
Tim Clark
0
46
Justin Robinson
0
47
Philip Reel
0
48
Luke Foli
0
49
John Webb
0
50
Gary Byard
0
51
Eric Hardesty
0
52
Keith Hartman
0
53
Dave Arnold
0
54
Garry Kincaid
0
55
Bill Cannariato
0
56
Russ Sproessig
0
57
Shon Smith
0
58
Jeff Rude
0
Total
87
299.32
IBF OPEN INVITATIONAL

March 25, 2012

Patoka

Co-Angler Results

Place
CO-ANGLER
# OF FISH
TOTAL WEIGHT
POINTS
WINNINGS
1
Antwain Howard
4
12.82
100
$1,218.00
2
Dave Rector
4
12.6
99
$761.00
3
B.J. Butcher
4
11.2
98
$457.00
4
Greg Smith
3
7.58
97
$304.00
5
Keith Whatley
2
7.44
96
$183.00
6
Drew Russell
1
6.12
95
$122+290 BB
7
David Dede
1
5.88
94
8
Dennis Sharrett
2
5.18
93
9
Dustin Burk
2
4.98
92
10
Randy Gorman
1
4.76
91
11
Patrick Brown
1
4.46
90
12
Dan Cook
1
4.08
89
13
Mike Diver
1
4.06
88
14
Ben Laughlin
1
3.9
87
15
Todd Hagerman
1
3.9
87
16
Tom Foster
1
3.82
85
17
Brendan O'Dell
1
3.72
84
18
Doug Roller
1
3.52
83
19
Ron Streeter
1
3.24
82
20
Doug Boniface
1
3.14
81
21
Rodney Johnson
1
3.04
80
22
Mike McGuire
1
2.74
79
23
Eddie O'Conner
1
2.66
78
24
Jeff Lane
1
2.66
78
25
David Miller
1
2.62
76
26
Tom Robbins
1
2.42
75
27
Lewis Mallory
1
2.4
74
28
Darren New
1
1.94
73
29
Gordon Reilly
0
30
Mike Leistner
0
31
Bill Hendricks
0
32
Brody McWilliams
0
33
Mike Wilson
0
34
Michael Moyer
0
35
Al Gillum
0
36
Scott Moon
0
37
Red Grider
0
38
James Stone
0
39
Jeff White
0
40
Steve Kincaid
0
41
Larry Tuttle
0
42
Tom Pugh
0
43
Jim Dile
0
44
Matthew Bishop
0
45
James Rockhill
0
46
Mike Bracken
0
47
Harold Brown
0
48
Don Fisher
0
49
Mike Marshall
0
50
Kevin Freese
0
51
Steve Kinkade
0
52
Keith Lambert
0
53
Peter Stirn
0
54
Jerry McConnel
0
55
Tyler Mosier
0
56
Jason Smith
0
57
Greg Karr
0
58
Rod Yoder
0
Total
42
136.88