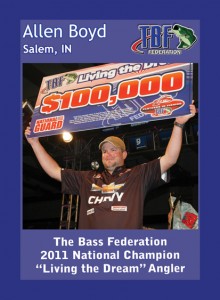 4/16/12 – Allen Boyd is living the dream this year, literally, and he's holding his own against the big boys in the process.
The Indiana angler is two tournaments (two Majors) into his rookie season on the FLW Tour, thanks to his victory at last year's TBF National Championship, and finds himself in 13th place in the Angler of the Year (AOY) standings. Short of a victory or even a Top-10 finish, he couldn't have asked for a better start to his season.
"So far, it's been great," said the 29-year-old construction worker from Salem, Ind. "I've had pretty good finishes. It's been a good year. Both tournaments so far have fit my style of fishing."
His victory at the TBF allowed him the option of an entry fees-paid spot in the Tour Majors as well as use of a tow vehicle and a fully-loaded Ranger boat. He also receives a travel stipend to cover fuel expenses. Now that he's gotten a taste of the Tour, he's making efforts to see if he can make it work on his own dime in 2013.
"I really want to do it next year," he added. "I want to be able to fish the Tour again. In order to do that, I'm going to need to find sponsors. That's something I'm working on as well."
He came out of the gates with a 14th-place finish at the Lake Hartwell Major and took 49th at the Table Rock Lake Major, earning $22,500 in the process.
"I was a little upset with Table Rock," he said. "I had my opportunities to do a lot better and was on the right pattern to do well. That's fishing. You learn a little bit and hopefully do better at the next one.
"So far, I've just fished the way I would at home. I know there's other ways to catch fish. These lakes that we're fishing are so big and there are so many different types of patterns that'll catch fish."
Other than a few days of scouting at Beaver Lake and a little bit of time at Kentucky Lake, he's seeing all the fisheries on the schedule for the first time, which seems to suit him well.
"The lakes here in Indiana are so small and so heavily pressured, there's no going out and actually running a pattern," he said. "You can't do that here. That's what's been nice about these other lakes. There's so many fish in them that you can figure out a pattern and actually run new water in a tournament and have confidence that there are fish there."