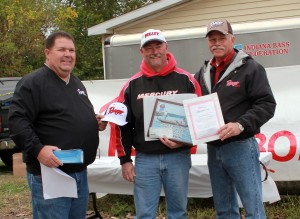 53 year old Lincoln Bowen of Crothersville Indiana won the biggest purse of his fishing career on Sunday at Geist Reservoir in Indianapolis.  Bowen weighed in a five bass limit on Saturday that tipped the scales at 17.50 lbs.  His big bass for the day was 5.48 lbs.   Bowen easily out distanced the rest of the 45 Classic Anglers on day one. His nearest competitor was Ron Moody of Anderson who also had a limit weighing in at 10.42 lbs.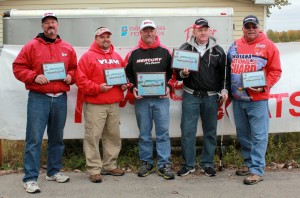 Bowen nearly backed up his first day bag but was one fish short of a limit. His 4 fish went 10.42 lbs.  He had another kicker fish on Sunday weighing 5.46lbs.   Bowen's two day total of 27.92 lbs. was worth $8,000.00 cash and a $5,000.00 certificate from the Ranger Boat Company.  Ron Moody hung onto second with a two day total of 16.88 lbs., he earned a check for $1,264.00
Bowen who works for Cerrowire of Crothersville states this was the biggest win of his fishing career. He has fished the Indiana Bass Federation Invitational Trail for about 25 years. He also fishes other tournament trails including BFL and USA Bassin.  He is sponsored by Marine Works of Nicholasville, KY, Nothead Tackle Seymour IN. and is on the Mercury Prostaff program.
Bowen's catch came on white spinner baits in about 10 feet of water. Bowen suspected the bass would move out to deeper water as the cold front settled over the area Saturday morning.  His suspicions were correct as the shallow bite slowed with over night temperatures dipping into the upper 30s.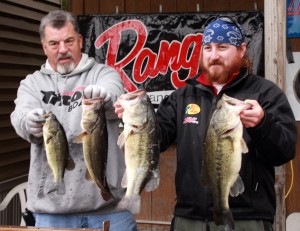 On the Co-Angler side second year tournament fisherman Patrick Brown of Oxford Ohio busted a big sack on Sunday. His four fish sack totaled 16.38 lbs. anchored by a 6.22 lb. Largemouth.  Brown had 2 fish on Saturday for 3.44 lbs.  His total of 19.82 earned him $4,000.00 cash and another $450.00 for big bass on Sunday. The 28 year old Brown wanted to thank his Angler partners Steve Quiggins and David Goodman for putting him in good water and giving him the encouragement and confidence to win.  He stated he started fishing with the Gad A Bout bass club about two years ago but his work of managing three restaurant-bar businesses in the Oxford area prevents him from fishing as much as he would like. Brown stated he caught his fish on spinner baits and a top water frog.
The second place Co-Angler was Jeff Lane of Knightstown IN. with 15.08 lbs. paying $560.00
The Indiana Bass Federation runs a six tournament series throughout the year wherein the top 40 Anglers and top 40 Co-Anglers are invited to fish the annual Forrest L. Wood Classic. The winners and runners up of each of the states Top 8 tournaments are also invited. The classic pays out money collected from entry fees through the year along with other prizes and the $5,000 certificate toward a Ranger boat. This year's qualifying tournaments were at Patoka, Brookville, Ohio River Rocky Point, Ohio River Lawrenceburg, Monroe and Patoka.
On the Angler side Mike Quinlin of Mooresville won the year end points race claiming Angler of the Year honors. Bowen finished 4th in that category.
In the Co-Angler division Tyler Mosier of Bloomington was Angler of the Year. Brown finished 9th in that points category.
ANGLER RESULTS | CO-ANGLER RESULTS
The Indiana Bass Federation Trail qualifying events require a $150 entry fee for Angler (Boater) and $75 entry for the Co-Angler.  Each of those tournaments pays back 70% of the entry fees in each division at each tournament. 30% goes to the classic fund and expenses.  The Indiana Bass Federation has been conducting tournaments for over 35 years and is the largest bass fishing organization in Indiana.  Visit  www.INDIANABASS.com
I want to thank all of this years participants as we averaged 50 anglers and 49 Co-anglers in each event throughout the year.
I am looking forward to a bigger and better 2013.
Kenny Swint,
Honored to be your Tournament Director.