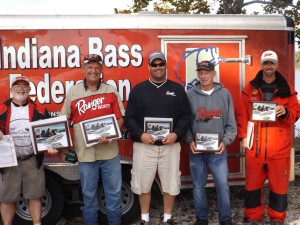 The 2013 Indiana Bass Federation Invitational Trail's Forrest L. Wood Classic was a great success at Patoka Reservoir this past weekend. The rain put a damper on some of the activities but everyone great time. 47 Anglers and 47 Co-Angler from all over Indiana and a few from Ohio fished IBF events all year to qualify for the Classic.  The top 40 in each division of the Invitational Trail and the the top two from each of the 7 Top 8 tournaments were invited. Two days of fishing with on and off rain both days. Serious driving rain over night on Saturday slowed to a light drizzle for the Sunday take off. The rain cleared late in the afternoon and held off through the weigh in.
Angler Ron Eicher opened the with a 5 bass limit weighing 18.06 anchored by big bass of the day at 5.44 lbs. Ron backed up his great catch with another limit on Sunday totaling 18.08 for a whopping 36.14 lbs. That won Ron his second Classic Championship, $9,000.00 cash, a $2,000.00 certificate from Ranger Boats, $470.00 for Big Bass and other prizes.
Chris Cox from Clayton Indiana finished second with 26.96 lbs. taking home $1680.00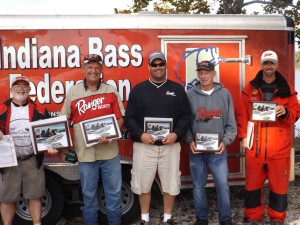 T J Edwards of St Paul weighed in 9 fish over the two days totaling 24.72 lbs. good for third place and a check for $1260.00
Paul Jolly of Salem who is also a previous Classic winner finished fourth with 21.86 taking home $840.00
Tim Maupin the 2013 Angler of the Year and a previous classic winner finished in fifth. Tim's 21.22 lbs included a 6.20 lb. lunker witch was Sunday's big bass.  Tim banked $420.00 for fifth and $470.00 for the big bass.
On the Co-Angler side, Bill Hendricks of Indianapolis set the early pace with five fish on Saturday weighing 13.88 lbs. Bill followed up with 6.10 on Sunday. His 19.98 gave him his first Classic win along with $4,500.00 and a $1,000.00 certificate from Ranger Boats.
Patrick Brown last years Classic Co-Angler Champion moved up a few positions on Sunday ending the event in second. His 18.10 lbs paid him $878.00 and his big bass of 4.88 lbs on Sunday paid $270.00
Jerry McConnell of Plainfield had a very solid year and he capped it off with a third place in the Classic. Jerry weighed in a total of 17.17 lbs and he walked away with $636.00
Chales Fox of Austin was our Co-Angler of the year and he had a good classic finishing in fourth. Charles had 5 fish total weighing 16.78 lbs.  He won $424.00 for his efforts.
Ron Streeter of Lawrence bagged seven over the two days totaling 16.56 Ron's fifth place paid him $212.00.  Scott Works had big bass on Saturday for the Co-Anglers. His 5.46 lbs largemouth paid $270.00
I want to again thank all of the sponsors and supporters of the Indiana Bass Federation Invitational Trail. With their help we awarded over $24,000 in cash and prizes at the classic. Their donations and support help pay for expenses through out the year. They also donate to awards and prizes.
Our trail is coming back and getting bigger each year. This year we averaged 60 boats in the Invitational events. Please continue to spread the word on how hard your board and directors work for you and please try to get more fishermen to join your clubs and the trail. Please stop in and patronize the following IBF supporters. A2O Boating Supply and Pro Shop of Jeffersonville, American Boat and Yacht of Jeffersonville, Amtek Signs of Salem,Artesian Outdoors of Martinsville, Anglers World of Greenfield, Bass Boat Saver of Trafalgar, Delaware Propeller Inc. of Muncie, Denali Custom Fishing Rods of Mountain Home Arkansas, Honey Creek Tackle of Bargersville, Indiana National Guard,  Lucas Oil Marine Products, Mitchell Veneer, The Outdoorsman Sport Shop of Greenwood, Ranger Boats Mike McDonald, Sutterfields Plaque and Trophy of Indianapolis, Ted's Aqua Marine of Indianapolis, Michael Vertesch Attorney at Law of Greenwood, Willsey Agency Insurance of Indianapolis, Phil Hunt Custom Lures,  Perry Marine, Big Tales Tackle, A Summerhouse Inn of Bloomington, Days Inn Tell City, Lanes Motel, Riverside Inn and the Patoka Lake Marina and Lodging home of our 2013 Classic. Thanks again to our tournament crew, Diane Swint, Joanie Egenolf-Sledge, Scott Sledge, Stacey Scheidler, Ashley Scheidler, Deneise and Eric Hardesty.
Proud to be your tournament director,
Kenny Swint