We had 17 volunteers help us build structures on that soggy Saturday. Most were members of Bass Unlimited but we also had several people from the campground and anglers assist. We were able to get everything built in just a couple hours thanks to them and their power tools.
We are scheduled to place structures into Sullivan during the week of June 20th (weather dependent). Structures will be placed by fisheries biologist using a newly renovated pontoon. This pontoon is specifically designed to place these very heavy structures safely.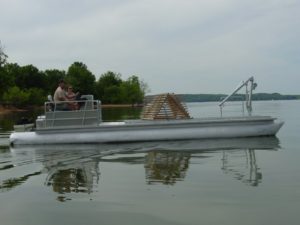 After we have placed the structures a detailed map showing structure placement (gps coordinates included) and depth will be available to anglers.
From:
Sandy Clark-Kolaks
Southern Fisheries Research Biologist
Bloomington Field Office
5596 East State Road 46
Bloomington, IN 47401
(812) 287-8300