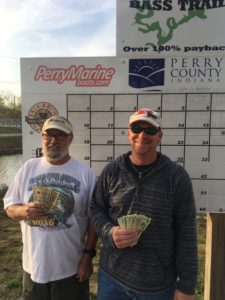 Jason Smith and Robert Henslee of the INDY BASS club of Indianapolis won Saturday's Zone 2, Tournament of Champions on the Ohio River at Rocky Point. Jason and Robert put together a 5 bass limit weighing 7lbs. 8 ounces to win the season ending event. Jason and Robert pocketed $300 plus another $100 for Big Bass.
David Schneider Sr and David Schneider Jr. also of INDY BASS were second with 2 bass weighing 3 lbs. 7 ounces.
Mike Hendrickson and Tom Bowker of the SYCAMORE BASS Club rounded out the money placings with two bass weighing 2 lbs. 14 ounces. After a cold foggy start the day turned out nice but the Ohio river was still very stingy for most of the fishermen and women.
Kenny Swint 11-05-16