DNR News
Indiana Department of Natural Resources
402 W. Washington St.
Indianapolis, IN 46204-2748
For immediate release: Dec. 20, 2016
Bob Vollmer, Indiana's oldest state employee, got quite the surprise Tuesday morning when he received the Sagamore of the Wabash award.
"I thought I was going over to the Governor's office for another meeting," said Vollmer, who at age 99 has been a field surveyor in the Department of Natural Resources Division of Engineering for 54 years.
He ended up at Lt. Gov. Eric Holcomb's office instead.
"Whenever there's a new governor, they always do something for longtime employees and give them a pencil or something," he said. "I got into the office, and the meeting was for me. There wasn't anyone else there. I still didn't know it would be this."
The Sagamore of the Wabash is the highest civilian award bestowed by an Indiana governor. What impressed Vollmer was that both the current and future governors had a hand in honoring him. While Gov. Mike Pence initiated the process, it was Gov.-elect Holcomb who presented the award.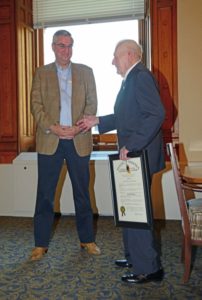 "It is my honor to present on behalf of Governor Pence the state's highest award, the Sagamore of the Wabash, to Mr. Vollmer," Holcomb said. "He is a World War II veteran, a Purdue graduate and has been a dedicated DNR employee for over 50 years.
"Just months shy of his 100th birthday, he is an inspiration, and I am looking forward to hiking the trails with him in Brown County and listening to more stories of his fascinating life soon."
Vollmer said: "I didn't know he knew anything about me. I had a very pleasant conversation with him. I'm glad I voted for the guy. I think he'll make us a good Governor."
Vollmer actually joined the Division of Engineering when the DNR was the Department of Conservation.
He still travels the state collecting technical field data and confirming boundary lines for DNR-managed properties. His work has taken him to 90 of Indiana's 92 counties – all but Dearborn and Switzerland.
The Sagamore presentation also honors Vollmer's military service. He joined the Navy during World War II, having enlisted after the Japanese attack on Pearl Harbor in 1941.
After the war, Vollmer graduated from Purdue University in 1952 with a degree in biological and agricultural engineering. He then worked for the Wabash Valley Association on reservoir and flood control projects before coming to work for the state.
During his DNR career, the tools of his trade have evolved from paper and pencil to such high-tech gear as a handheld GPS device.
"I used to work out geolocation using trigonometry," Vollmer said in an article about him in the November/December issue of Outdoor Indiana, DNR's official magazine. "It might take me hours, whereas now I just take my finger and, pow, instantly I've got it right in front of me."
Media contact:
Phil Bloom
DNR Communications
(317) 232-4003