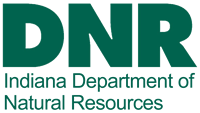 Fish and anglers both will benefit from a DNR habitat project at Cecil M. Harden (Raccoon) Lake.
DNR fisheries biologists and partner organizations hope to develop more than 350 fish habitat features in the lake by the end of 2018. The project includes rock piles, brush piles, wooden structures, and clusters of vertical posts.
The improvements at Raccoon Lake are the second such project by a year-old initiative of the DNR Division of Fish & Wildlife called the Reservoir Aquatic Habitat Enhancement Program. The program builds fish habitat in reservoirs that lack natural structure. The first project involved Sullivan Lake.
"We are building on what we learned at Sullivan Lake and including more partners in our latest project," said Sandy Clark-Kolaks, DNR southern fisheries research biologist.
Raccoon Lake is a 2,060-acre U.S. Army Corps of Engineers (USACE) flood control impoundment near Rockville. Each winter, the USACE draws down water levels by 22 feet, which impedes aquatic vegetation growth. Aquatic vegetation is a key factor in fish habitat.
Partners include the USACE, Bass Unlimited and the Indiana Bass Federation.
This winter, the DNR placed three rock pile complexes at locations near the Raccoon Ramp and marina. A rock pile complex consists of large rock placed in 1-ton piles. Twenty piles are placed in a 1-acre space.
A volunteer day will take place at the lake this fall. Volunteers will help DNR biologists build more than 100 wooden habitat structures to place in the lake over winter.
Any club interested in volunteering this fall or for more information please contact:
Sandy Clark-Kolaks
(812) 287-8300
sclark-kolaks@dnr.IN.gov