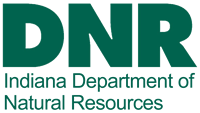 Michigan's decision to cancel its muskie-stocking program this year due to a virus outbreak in adult fish they capture for muskie eggs has prompted Indiana DNR officials to say a similar situation could develop in the Hoosier state.
Viral hemorrhagic septicemia virus (VHSv), which is responsible for a number of dead fish in Lake St. Clair and the Detroit River, could potentially show up in Lake Webster, Indiana's only source for muskie eggs.
"If VHSv does show up in Lake Webster, we wouldn't want to bring infected eggs into our hatchery system where they could contaminate the water and spread to other fish," said Dave Meuninck, manager at the Bodine State Fish Hatchery and DNR fish disease coordinator.
To reduce the risk, Meuninck processes dozens of fish collected each spring from Lake Webster for testing during Indiana's muskie egg-taking operation.
The fish, including bluegills, bass, and other species, are captured in traps used to catch adult muskies.
Meuninck removes their kidney and spleen, then sends the organs off to Purdue's Animal Disease and Diagnostic Laboratory for analysis.
No VHSv has been detected at Lake Webster, or anywhere else in Indiana, to date.
"If we find it, we'll have to make major adjustments to our muskie program," said Meuninck. "That could mean trying to establish another brood fish population, getting eggs from out of state sources, or holding virus-free adult muskies in a pond all year."
"Either way it complicates the situation," he said.
VHSv is contagious and can spread from lake to lake within a watershed. Anglers can also spread it by not adequately cleaning their fishing gear, boats and trailers.
The virus can infect dozens of susceptible fish species. Some species, including muskies, are very susceptible while others, such as walleyes, are somewhat resistant.
VHSv kills fish by causing blood vessels to leak. Infected fish often develop bloody patches on the skin. It doesn't affect humans. Outbreaks typically occur in the spring when the water is still cool and fish are stressed during spawning.
There is no known way to eliminate the virus once it appears but not all fish succumb to it. Survivors can become carriers however.
After outbreaks of the Great Lakes' strain of VHSv began more than 10 years ago, DNR biologists have sampled fish from various waters each spring to determine whether the pathogen has reached Indiana. Lake Webster and Brookville Reservoir, the DNR's walleye brood source lake, are especially targeted for testing.
"So far Indiana is VHSv-free," said Meuninck.
In addition to testing for VHSv in brood source lakes, fish reared in Indiana hatcheries are tested prior to stocking. Muskie fingerlings scheduled for stocking in Lake Webster in mid-May were tested and no VHSv was detected.
To view all DNR news releases, please see dnr.IN.gov.
Contact Information:
Name: Dave Meuninck
Phone: (574) 255-4199