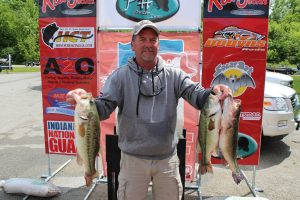 The second tournament of 2017 was held on Brookville Reservoir Sunday May 21, 2017.   First, I would like to thank all the Anglers for coming out and making the tournament a great success.  If we keep getting turnouts like this, we will be able to keep giving out over $10,000 in prize money!!   The weather was in the 80's with a few off an on rain showers.  Water temps ranged from upper 60's to low 70's, with the lake being around summer pool after being up to 8 feet high in the couple weeks leading to the tourney.  The bite was pretty good with lots of bass brought to the scale.  In total the anglers brought in 312 Bass for 570.28 pounds
On the Angler side Mike Seal led the field with 13.94 pounds and took home a check for $2,661.  Angler Big bass was a 5.4 pound largemouth by Mike Quinlin and worth $650.    For the Co-Anglers Josh Hanson caught 9.5 pounds of Brookville lake bass. Josh took home $1351 for the win. David Collett had a 4.36 pound Big Bass on the Co side.
I want to thank Phil Hunt Custom Lures for being the title sponsor for the event.
As well as all the other great sponsors we have, that give money and fantastic products to the trail.  We had great items for the raffle.
Looking forward to seeing everyone at the next event at Monroe Reservoir on June 11, 2017.  be sure to enter online at entry.indianabass.com
Ranger Boats  —  Phil Hunt Custom Lures — Indiana National Guard — Dobyns Rods — Solar Bat — Bass Boat Saver — Honey Creek Tackle — The Outdoorsmen Sport Shop — A20 Boating Supply — Sack Caddy — Red Shad  — Eddie Gilstrap Motors — Lawrence Motorsports — Principled Chiropractic — Dixie Marine — Amtek Signs — Sutterfields Awards
| | | | | | |
| --- | --- | --- | --- | --- | --- |
| 1 | Michael Seal | 5 | 13.94 | |  $                 2,661.00 |
| 2 | Mike Quinlin | 5 | 13.4 | 5.4 |  $   1501 + BB $750 |
| 3 | Jon Ruffier | 5 | 11.68 | |  $                    887.00 |
| 4 | Dave  Schneider Jr. | 5 | 11.52 | |  $                    682.00 |
| 5 | Lewis Mallory | 5 | 11.12 | |  $                    443.00 |
| 6 | Terry McWilliams | 5 | 10.88 | |  $                    273.00 |
| 7 | Jason Wood | 5 | 10.66 | |  $                    204.00 |
| 8 | Curt Cox | 5 | 10.12 | |  $                    170.00 |
| 9 | Kenny Swint | 5 | 9.66 | | Dobyns Rod |
| 10 | Brian Coleman | 5 | 9.16 | | |
| | | | | | |
| --- | --- | --- | --- | --- | --- |
| Place | Co-Angler | Fish | Weight | Big Bass | Payout |
| 1 | Josh Hanson | 5 | 9.5 | |  $    1,351.00 |
| 2 | Jared Wiser | 4 | 8.66 | |  $       762.00 |
| 3 | Jim Rockhill | 4 | 7.94 | |  $       450.00 |
| 4 | Michael Pelston | 5 | 7.56 | |  $       346.00 |
| 5 | Gary Bowen | 3 | 6.74 | |  $       225.00 |
| 6 | Kenneth Smith | 5 | 6.44 | |  $       138.00 |
| 7 | Michael Bracken | 3 | 5.88 | |  $         95.00 |
| 7 | Will Halbig | 3 | 5.88 | |  $         95.00 |
| 9 | Doug Ashcraft | 3 | 5.68 | | Dobyns Rod |
| 10 | Matthew Beckwith | 2 | 5.48 | | |