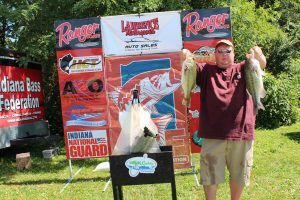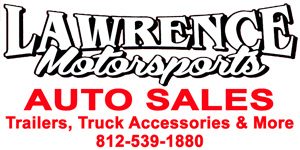 The 4th tournament of 2017 was held on the Ohio River out of Tanners Creek on Sunday July 9, 2017. First, I would like to thank all the Anglers for coming out and making the tournament a great success. The weather was in the low 80's. The creeks and river were a little muddy, making the bite a little tough.
Full Picture Album Here https://goo.gl/photos/WVxXmWdmHGvcQF8x9
On the Angler side Mike Powell topped the field with 12.60 pounds of Ohio River Bass and took home a check for $2,620. Doug Ruster a 2nd place check and another $640 for his 5.36 pound big bass. For the Co-Anglers, Ryan Sykes brought in a limit of bass for 6.72 pounds earning him $1,310 for the win. Doug Ashcraft had a 2.9 pound Big Bass on the Co side which paid him $320.
I want to thank Lawrence Motorsports for being the title sponsor for the event.
As well as all the other great sponsors we have, that give money and fantastic products to the trail.  We had great items for the raffle.
Looking forward to seeing everyone at the next event at Rocky point on the Ohio River – Tell City on August 20, 2017. be sure to enter online at entry.indianabass.com
Ranger Boats  —  Phil Hunt Custom Lures — Indiana National Guard — Dobyns Rods — Solar Bat — Bass Boat Saver — Honey Creek Tackle — The Outdoorsmen Sport Shop — A20 Boating Supply — Sack Caddy — Red Shad  — Eddie Gilstrap Motors — Lawrence Motorsports — Principled Chiropractic — Dixie Marine — Amtek Signs — Sutterfields Awards
| | | | | | |
| --- | --- | --- | --- | --- | --- |
| Place | Angler | Fish | Weight | Big Bass | Payout |
| 1 | Michael Powell | 5 | 12.60 | |  $            2,620.00 |
| 2 | Doug Ruster | 4 | 10.78 | 5.36 |  $1478 + $640 BB |
| 3 | Russell Sproessig | 4 | 8.44 | |  $               873.00 |
| 4 | Chris Burk | 5 | 8.40 | |  $               672.00 |
| 5 | Mike Quinlin | 5 | 7.32 | |  $               470.00 |
| 6 | Dennis McGee | 5 | 7.28 | |  $               336.00 |
| 7 | Jeff Hafft | 5 | 7.00 | |  $               268.00 |
| 8 | Jon Ruffier | 3 | 6.00 | | Dobyns Rod |
| 9 | Chris Wilkinson | 2 | 5.84 | 5.02 | |
| 10 | Mark Dove | 5 | 5.64 | | |
| | | | | | |
| --- | --- | --- | --- | --- | --- |
| Place | Co-Angler | Fish | Weight | Big Bass | Payout |
| 1 | Ryan Sykes | 5 | 6.72 | |  $           1,310.00 |
| 2 | Billy Swank | 4 | 5.66 | |  $              739.00 |
| 3 | Will Halbig | 4 | 5.16 | 2.72 |  $              436.00 |
| 4 | Doug Ashcraft | 3 | 4.76 | 2.90 |  $336 + $320 BB |
| 5 | Michael Pelston | 4 | 4.44 | |  $              235.00 |
| 6 | Dakota Ball | 2 | 3.62 | |  $              151.00 |
| 6 | Todd Taylor | 3 | 3.62 | |  $              151.00 |
| 8 | Justin  Grunkemeyer | 3 | 3.60 | | Dobyns Rod |
| 9 | Dale Walton | 3 | 3.58 | | |
| 10 | Rodney Johnson | 3 | 3.52 | | |