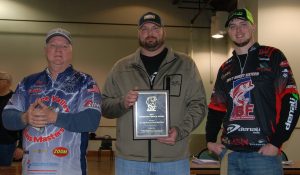 Community Service – St Joe Valley Bass Masters
They were recognized for conducting a charity bass tournament. They were able to give $500 to a family which had a family member who had serious health issue to help cover medical expenses. They also worked with the St Joe County Sheriff and local businesses to conduct a Crime Night Out program at a St Joseph County Park with the goal of showing youth there are alternative to crime.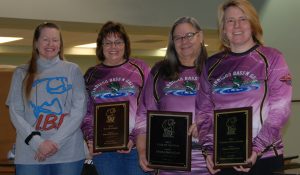 Conservation Award – Indiana Bass'n Gals
For their program to have Tyler Blankenship of the Army Corps of Engineers speak to the Kids and Co Youth Tournament participants about invasive species and the Asian Carp problem.
Youth Award – Indiana Bass'n Gals
The club conducted their 31st Kids and Co Youth Tournament with 88 kids participating. They provided trophy, prizes (which included rods and reels and tackle boxes), hats and tackle packs. They also provided breakfast and lunch for everyone in attendance. They clean all the toys at the Indianapolis Ronald McDonald House twice a year. Club members also have a booth at the Indianapolis Boat Sport to promote their Kids and Co Youth Tournament. At the boat show they passed out almost 500 cane poles to children that attended the boat show on Kids Day.
Club of The Year – Indiana Bass'n Gals
In additional to those programs listed above club members volunteered to run the kitchen for the Indiana Fishing Expo at the Johnson County Fairgrounds, helped the US Army Corps of Engineers conduct their first kid's tournament at Lake Monroe, and volunteered at The Fishing Pond during the Indiana State Fair.