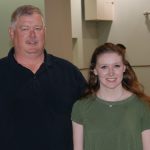 Ashley Bortlein of Sunman, IN is the daughter of Chris Bortlein, a member of the Gad-A-Bout Bass Masters. She is a senior at East Central High School where she has a 3,947 GPA. She will be attending Cedarville University in the fall where she will study heath science with a goal to have a career in pharmaceutical science. She has memories of traveling to Brookville Lake with her father where they caught "lots" of smallmouth and had the opportunity to see other wildlife.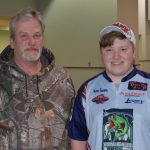 Hunter Dunaway, Corydon, IN, is a senior at Corydon High School. His father is Roger Dunaway who is a member of the Hoosier Hills Bass Masters. He will be studying cyber security at Ivy Tech with the goal to work for the Federal Bureau of Investigation in digital forensics. He has enjoyed fishing with the Hoosier Hill Bass Masters and in the IBF. He was thrilled to fish his first Top 8 and was able to participate in the IBF State Finals at Wawasee.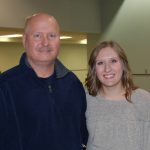 Hannah Goldsberry, Mitchell, IN, is a junior at University of Southern Indiana. She has a 3.94 GPA and is studying occupational therapy. Hannah's career objective is to become a Certified Occupational Therapist Assistant. She attended Mitchell High School. Her father, Donald Goldsberry, is a member of the Tri-County Bass Masters. She recalls fishing with her father and brother and having a competition to see who could catch the most fish.
Kaitlin (Katie) Goff is the granddaughter of Mike Goins, a member of the Potato Creek Bass Club. She graduated from Vermillion High School in Vermillion, OH. She is a junior at the University of Akron. She is studying Early Childhood Education and plans to be a Kindergarten teacher. She remembers fishing in the channel at her grandfather's house along with her brothers, cousins and uncles.