Sunday, May 15th on Pine & Stone Lakes.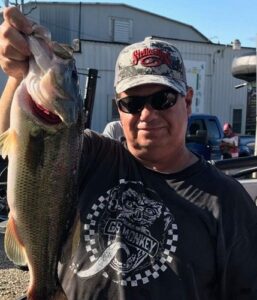 Indiana Bass Club will be hosting a Benefit Bass Tournament on Pine & Stone Lake with all proceeds going to the family of Jim Michael. Jim worked as an ER nurse at the University of Chicago and contracted Covid in 2020. Due to complications from the virus, Jim is no longer able to work to provide for his family. Jim has been a member of the Indiana Bass Federation for over 25 years. He is truly one of the kindest and most generous people one will ever meet.
After the tournament, a lunch fish fry with with all the fixings' will be provided within the climate controlled confines of the Huber's Marine North Annex. We kindly ask for a minimum $5 donation with all proceeds going toward Jim's family. All are welcome to fish, share fellowship, break bread and/or donate as they see fit.
Entry Fees
$100/team
$50 from each team entry fee goes directly to family.
Other $50 paid out in full
Starting order based upon when entry fees were received
Tournament Info
Indiana Bass Federation rules will apply: indianabass.com
Big Bass Pot $500 (Guaranteed)*
3 bass limit: 14″ limit on laremouth & smallmouth
*Seeking sponsorship(s) for Big Bass Pot
Launch Location
Huber's Marina North Annex
1350 Pine Lake Road
*Overflow parking will be provided
Check-In: 5AM
Tournament: 6AM – Noon
Pre-Tournament Meeting: 5:45 on water outside marina
Contacts
Jeff Kaczur: 219.689.1684
Jason Wulf: 630.988.8600
A HUGE THANK YOU to Huber's Marine for allowing us to use their facility and Duneland Media for designing the flyer.