Joan H. Davis inducted into IBF Hall of Fame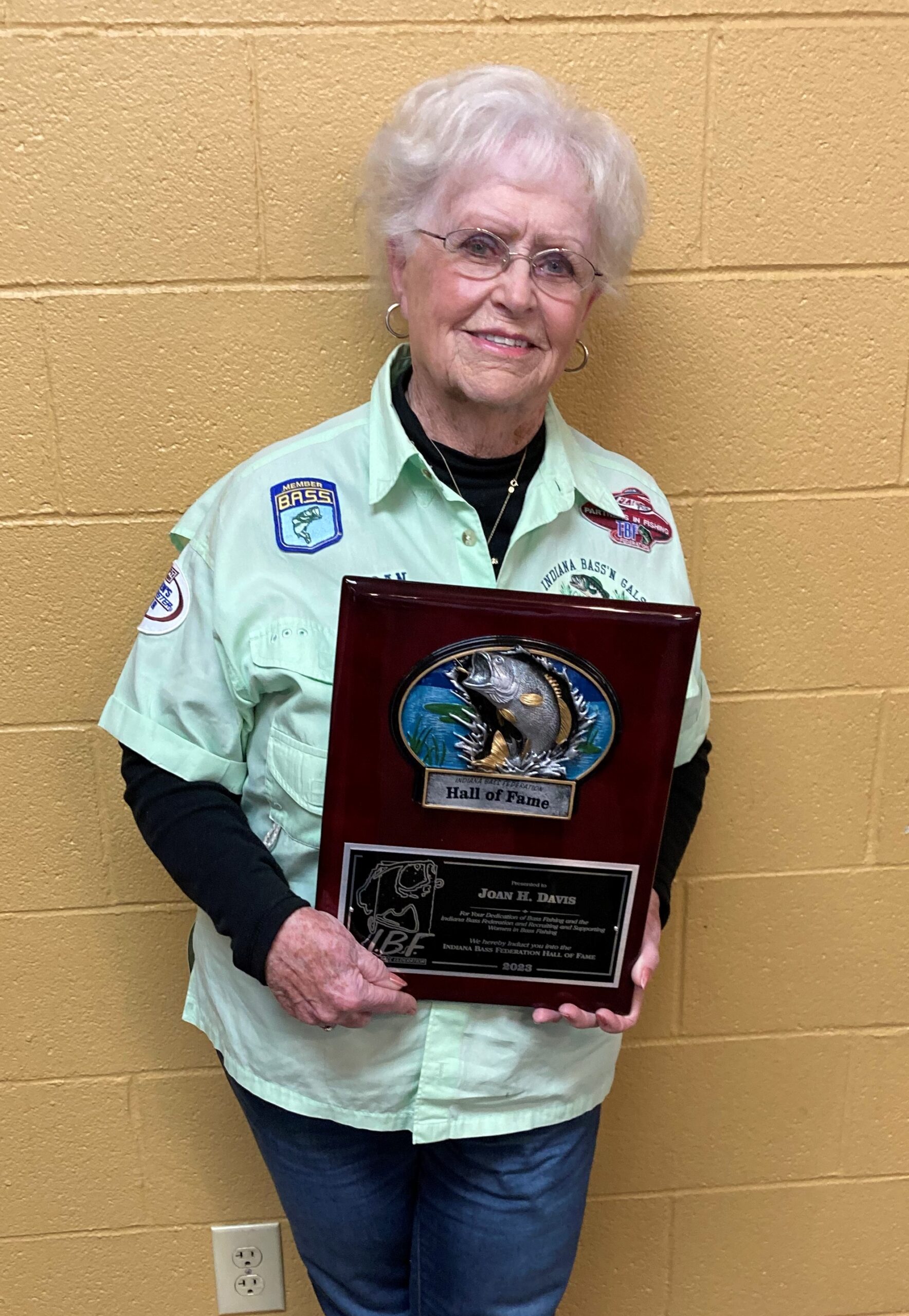 Joan Davis was a trailblazer and pioneer for woman in bass fishing. She was a leader and mentor for many women as well as a passionate promoter for competitive bass fishing in general. She was the Indiana Bass'n Gals Angler of the Year multiple times. Along with an another member of the Indiana Bass'n Gals she won the Zone 2 Tournament of Champions in 2011. She fished four years in the Women's Bassmaster Tour. She was involved and promoted many bass fishing organizations such as National Bass'n Gal, Lady Bass, Women's Bass Fishing Association (co-Angler of the Year in 2003), FLW, Major League Fishing, as a well as the Bass Federation and the Indiana Bass Federation. She is involved with the Wildcat Wildlife Rehabilitation Center, Ronald McDonald House, dock repairs a Waveland Lake, and fish Habitat Initiative.
Club of the Year Awards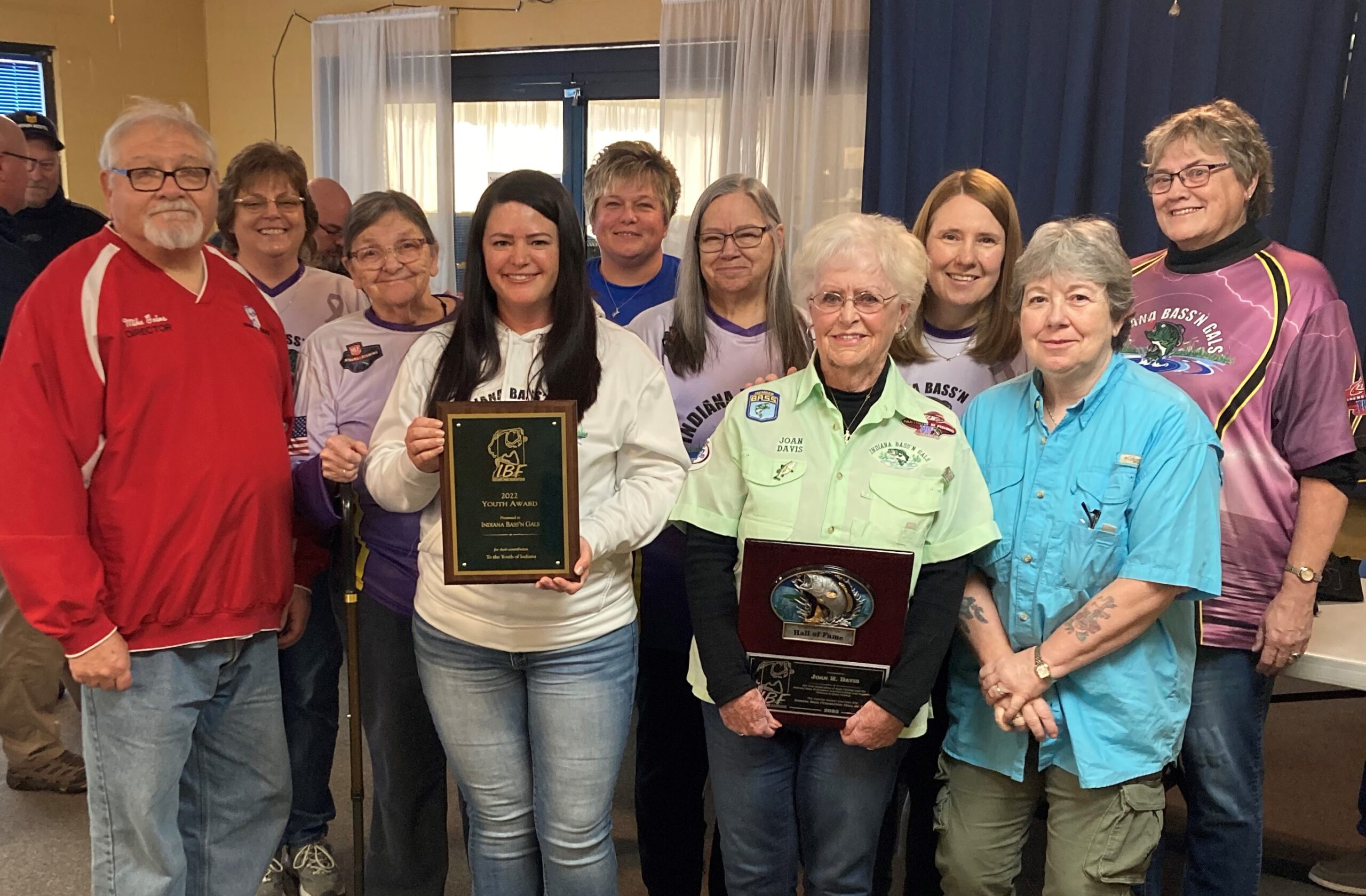 The Indiana Bass'n Gals were named the 2022 Youth Award winner. At the 2022 Indianapolis Boat Show they distributed 500 passes to kids to fish the Trout Pond for free. In August they conducted their 36th annual Kids and Co Tournament at Lake Monroe . Eight four kids and their families were served breakfast. Each of the participants received goody sacks filled with hats, tackle packs and other goodies. Trophies and prizes were awarded to the top 5 kids in each division. There were also live animal presentations as well as presentations about water safety and invasive species, The club also volunteered to assist at the State Fair Fishing Pond. In addition they assisted at a fishing outing at Brook's Place. The organization provides support, therapy session and education to empower children, teens and young adults in the midst of grief.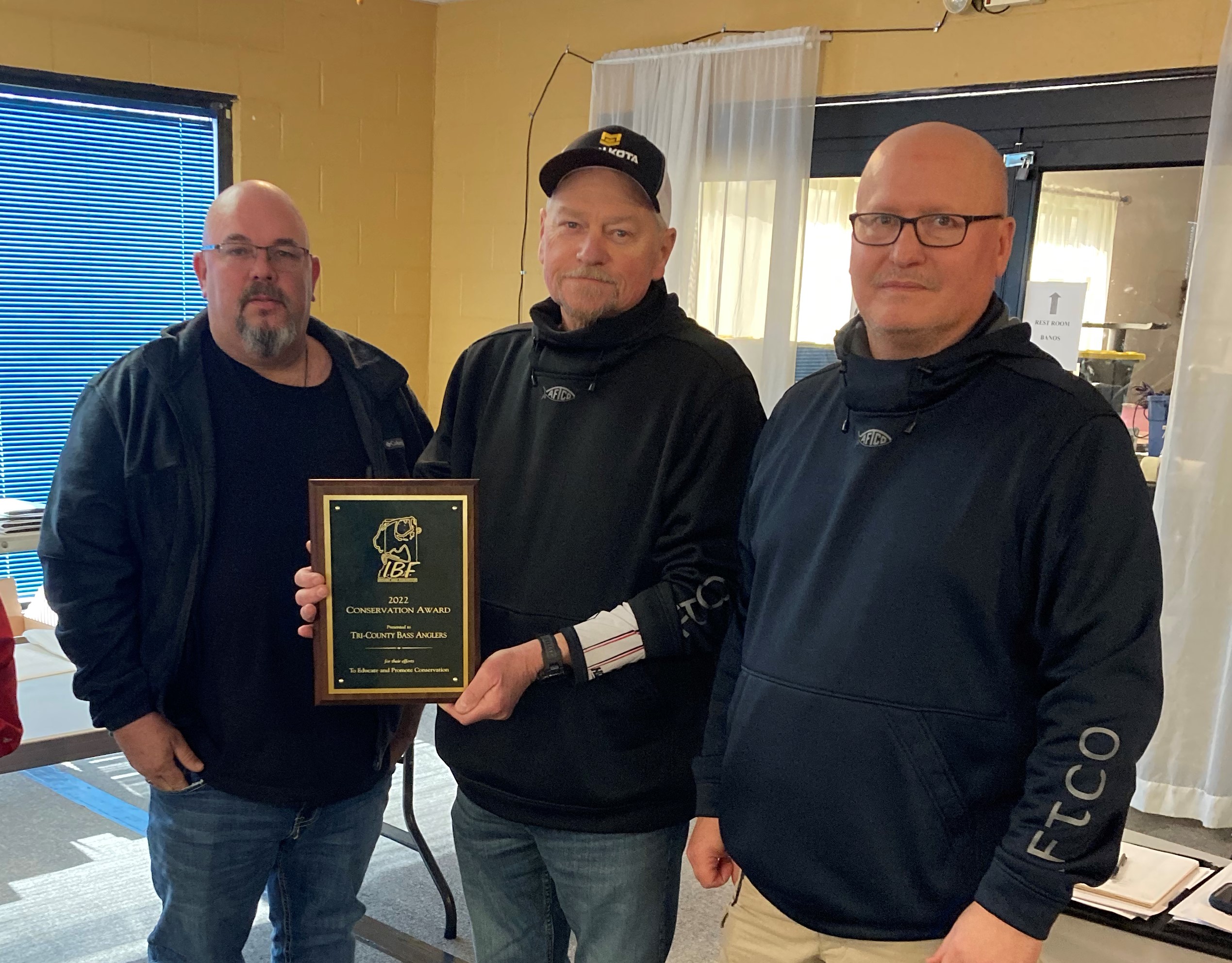 The Tri-County Bass Anglers received the Conservation Award. Last October the club put on a program documenting their work done at Patoka lake at the meeting of the Friends of Reservoirs at Shelbyville Lake in Illinois, They also learned new ways to build and place different types of fish habitats. With financial assistance from the Friends of Reservoirs and the Bass Fishing Hall and manpower help from Boy Scout Troup 348 they placed 70 Mossback Rootwad structures and as well as wood structures in Patoka Lake. To date they have place 427 structures in Patoka, On December 11th the club with other volunteers built 39 pallet structures for Patoka. In addition they provided boat captains to take kids fishing in juniors and senior high school events, open youth tournaments and college events.
In an unprecedented decision the Federation named the Indiana Bass'n Gals the Tri-County Bass Anglers Co-Club of The Year recipients. Both clubs received Club of the Year plaques.
2023 IBF Scholarships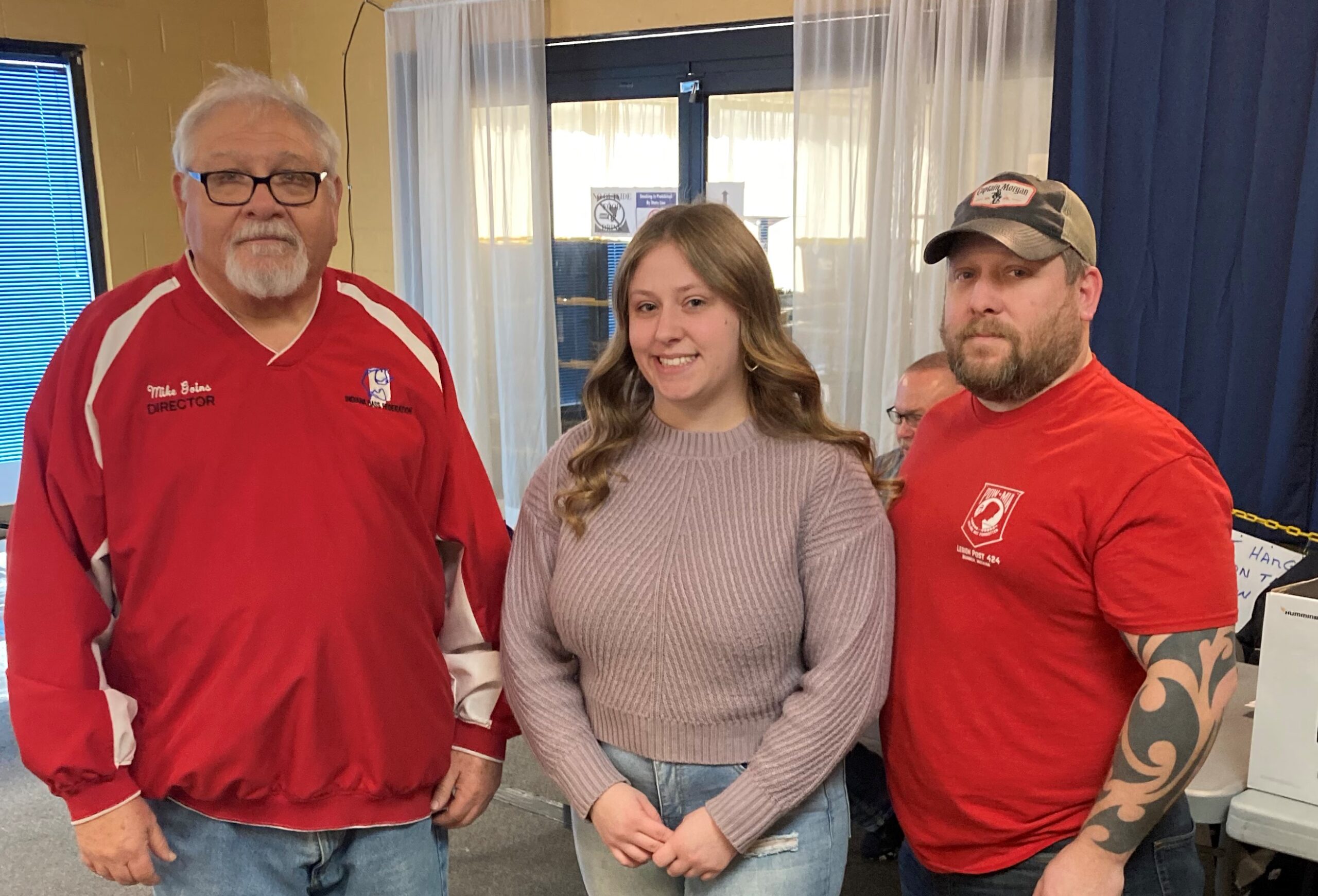 Mia Woods is a sophomore Trine University where she is studying mechanical and metallurgical engineering, She is the daughter of Jason Woods, a member of the St Joe Valley Bass Masters.
Emily Wood is the daughter of William Wood, a member of the Eastside Bass Master. She is in her freshman year at Purdue University. Her career goal of pediatric speech therapy.
Grace Regulinski is a freshman at Purdue University. Her field of study is cyber security and she plans to become a computer forensic analyst. Her father, Joe, is a member of the St Joe Valley Bass Masters.
Special Recognition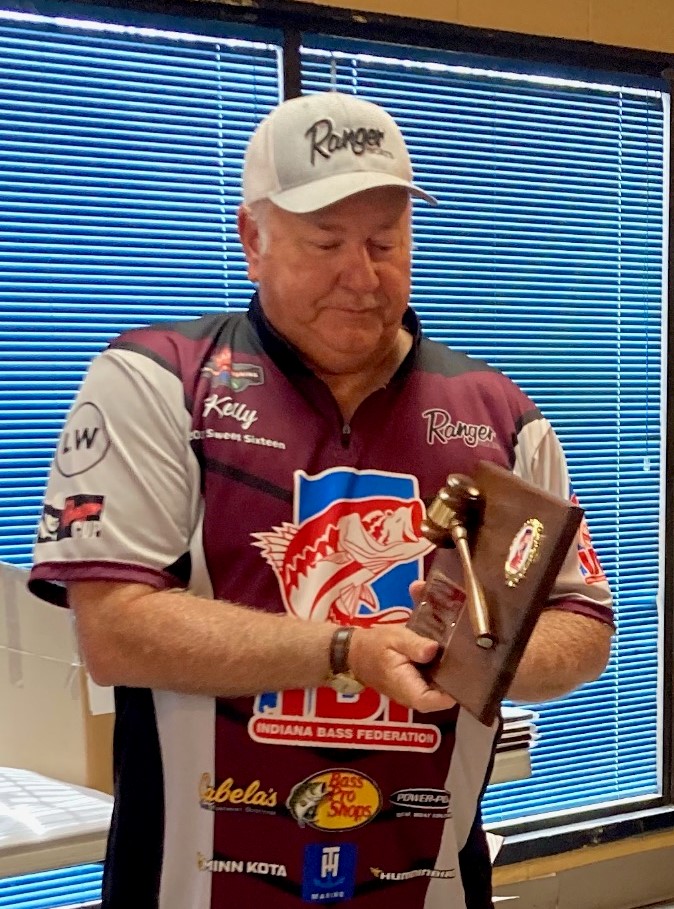 Kelly Hook with special award for his 10 years of service as IBF President.