The Indiana Bass Federation Invitational Trail for 2016 got started on April 10 at Patoka Lake with 46 anglers and 46 co-anglers. The weather conditions at launch time were 36 degrees, partly cloudy with a light breeze out of the south. The skies became mostly cloudy by midmorning with the wind from the south getting stronger and the temperature climbing into the upper 40s.
Weigh in got under way at 4:15 pm and we saw 91 fish for 292.22 pounds. Angler Ron Moody had the only five fish limit of the tournament, weighing in at 15.74 lbs. for a first place finish and receiving a check for $1884. Wes Thomas' weight of 13.52 was good for a second place check of $1004 and the highest finisher in Ranger Cup. Rounding out the top five on the angler side were Larry Hostetler 13.04, Mike Vertesch 11.52, and Brad Schneck 10.20. See full results.
The co-angler side saw Dennis Greenlee come to the scales with two fish for a total of 8.04 to capture first place and a check for $942. Rounding out the top five on the co-angler side were Darron Read 4.92, Mike Goins 4.70, Jason Smith 4.22 and Michael Pelston 3.80. See full results.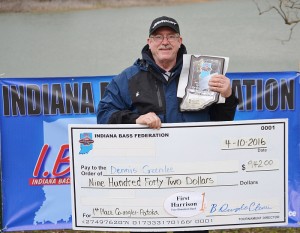 Larry Hostetler weighed in a 6.24 big bass on the angler side and Darron Read had a 4.92 big bass for the co-anglers.
RedShad.com will be sponsoring the Top Draw Award again this year. A tackle pack will be awarded to the angler who is paired with the winning co-angler for each tournament. The Top Draw Award winner for Patoka was Larry Hostetler. There will also be an award at the end of the year for the angler who has the most co-angler points for the year.
On May 22 the trail will move to Brookville Lake with the pre-tournament meeting to be held at Frame's Outdoors. Hope to see you there!